___________________________________________________________________
Motorists told to cut out their own tax discs after stocks run out
Cited at:
http://www.honestjohn.co.uk/news/tax-insurance-and-warranties/2014-09/motorists-asked-to-use-diy-tax-discs-as-stocks-run-out/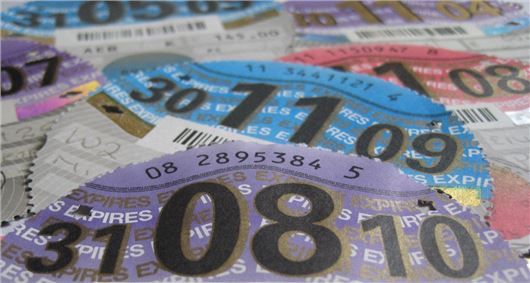 Motorists have been told to cut out their own tax discs after the DVLA revealed it had run out of perforated paper.
The traditional paper tax disc is due to be replaced from 1 October with a new electronic system; however, with the disc approaching its end, there appears to be a shortage of perforated paper at the DVLA. As a result, the Agency has decided to print the discs in house, with drivers forced to cut out their own vehicle tax.
A DVLA spokesman said: "Tax discs can be expensive to produce and we have always planned to run down stocks in the run up to 1 October.
"To make sure we deliver the best possible savings to the taxpayer we have not procured more stock for these last few weeks, and will instead print the remaining discs in house."
By abolishing the paper disc, the DVLA claims it will save more than £10 million each year, while making it easier for vehicle owners to tax or SORN a vehicle. The cut out discs will apply to DVLA issued tax discs only, with some Post Office branches still using left over stock.
To see how the changes to the vehicle road tax system will impact you
click here