___________________________________________________________________
Police crash into man's car to stop him driving wrong way down motorway
Man with dementia, 77, returned safely to family after being stopped while heading south on northbound carriageway of M6
Cited at:
http://www.theguardian.com/uk-news/2014/aug/20/police-crash-dementia-man-car-driving-wrong-way-motorway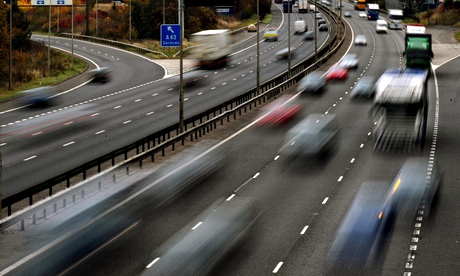 Police stopped a man driving the wrong way down the motorway by crashing into his car. Photograph: Rui Vieira/PA
Traffic police had to crash into a car being driven at 50mph the wrong way down a motorway by a 77-year-old man with dementia.
Officers stopped the Honda Jazz on the M6 toll in the West Midlands after reports that it was heading south on the northbound carriageway, between junction T5 and T4.
The Central Motorway Police Group (CMPG) said the driver had dementia and had been reported missing by his family.
A police spokesman said: "Officers took the decision to make a deliberate head-on contact with the Honda to bring it to a stop."
The driver, from Rowley Regis in the West Midlands, was not hurt while an officer sustained a minor injury. The pensioner was returned home to his family.
Inspector Mark Watkins, of the CMPG, said his officers' brave actions prevented a more serious incident.
"This was an extremely unusual situation where the driver of the car had shown no intention to stop travelling in the wrong direction.
"Traffic officers bravely took the decision to engineer a collision with the vehicle and I am sure that their selfless actions have prevented serious injury or worse to the driver and other motorists on the road.
"We were relieved that we could bring this situation to a safe conclusion and return the man home safe and well to his family."