___________________________________________________________________
A9 Average Speed Camera Rolling Blockade Scrapped
Cited at:
http://www.pocketgpsworld.com/A9-Average-Speed-Camera-Rolling-Blockade-Scrapped-4827.php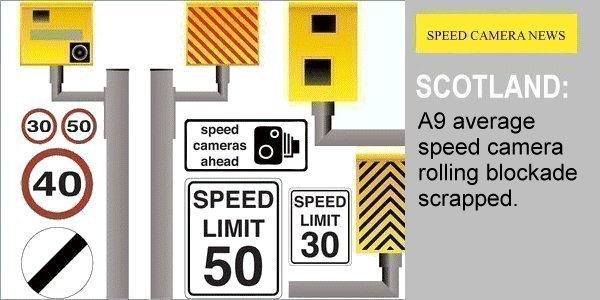 Lorry driver Conor McKenna intended to arrange convoys in an attempt to demonstrate what he thought might happen when the A9 average speed cameras are switched on, i.e. slowing the overall flow of traffic down between the cameras.
He now says that there is no need for such a convoy as the speed limit for HGVs has been increased from 40mph to 50mph - something that he previously campaigned for.
Mr McKenna says "It'll make a huge difference for us. Say you're going down to Glasgow and back up, then that's 50 minutes saved in each direction."
That said he still has concerns that the cameras would prove to be "a total disaster".
Although the cameras have yet to be activated, a Transport Scotland spokeswoman claimed that the cameras were already changing drivers' behaviour.
She commented: "Instances of excessive speeding on the A9 have dropped from around one in ten to less than one in seven hundred since the cameras were installed on the A9 and there has been no significant effect on journey times as a result of more people driving within the speed limit."
She added: "In a recent survey, 78% of drivers who use the A9 said they believed average-speed cameras were 'effective' or 'very effective' in improving road safety."