___________________________________________________________________
Cameron to announce £15bn plan to improve UK's 100 road blackspots
Cited at:
http://www.theguardian.com/uk-news/2014/nov/10/david-cameron-announce-15bn-boost-improve-100-road-blackspots
The A1 near Newcastle, Pennine crossings and the A303 London to Cornwall road will be upgraded, the PM will tell the CBI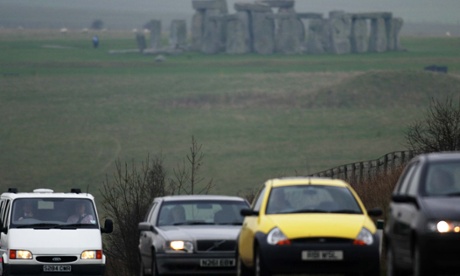 The A303 road between London and Cornwall could benefit from the government's road building plans. Photograph: Sean Smith/Guardian
The government is planning to spend £15bn to tackle more than 100 of the most notorious problem hotspots on England's roads by the end of the decade, David Cameron will announce on Monday.
The prime minister will tell business leaders that hundreds of extra lane miles will be created on motorways and trunk roads as part of a "roads revolution" that will speed up journey times.
Plans to build a tunnel under Stonehenge have reportedly been looked at by the government to help ease congestion on the A303 and the route to the south west from London is among those that is set to benefit from the cash.
Work on stretches of the A1 round Newcastle, roads across the Pennines, the A47 in the east of England and the A27 on the south coast are also in line for funding.
Cameron will tell the CBI's annual conference in London that the plans for the "biggest, boldest and most far-reaching" upgrade to roads in a generation will be announced in December's autumn statement.
He is expected to say that there will be more than 100 improvements to our major roads.
"Hundreds of extra lane miles on our motorways and trunk roads. The green light given to major projects that have been stalled for years. Action to improve some of the most important arteries in our country – like the A303 and the A1 – which for too long have held parts of our country back. And all underpinned by over £15bn worth of investment.
"This will be nothing less than a roads revolution – one which will lead to quicker journey times, more jobs, and businesses boosted right across the country.