___________________________________________________________________
Technology to turn traffic lights green to be tested
Cited at:
http://uktodaynews.com/20982/technology-to-turn-traffic-lights-green-to-be-tested/
Experts are testing a new technology that will allow the drivers to turn the traffic lights green in Newcastle. The first to try the new technology will be the North East Ambulance service.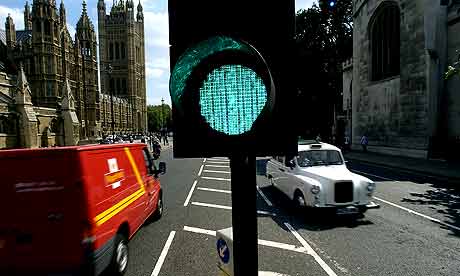 The new system will give the ambulance service up to date information about the traffic conditions and predicting the routes and speed that will allow them to have green lights on the way to their destination. The new system is expected to be the size of a small Sat Nav and will give the ambulance crew an option to have priority to approach a destination by telling the traffic lights to go green.
The existing Urban Traffic Management Control centre of Newcastle has the ability to talk to the vehicles that are equipped with the new technology and is being linked to the Newcastle's central transport hub. Phil Blythe is a part of the team from the University of Newcastle is a part of the team that will be running the test.
Blythe said that it is about improving services and is preparing for the future. The project is associated with Newcastle's Department of Transport North East Ambulance Service and other global partners including Siemens and Volvo. When the driverless cars will be implemented, they need to have constant communication with other cars and the traffic management system.