___________________________________________________________________
Knockin village fake speed camera vanishes
Cited at:
http://www.bbc.co.uk/news/uk-england-shropshire-34061264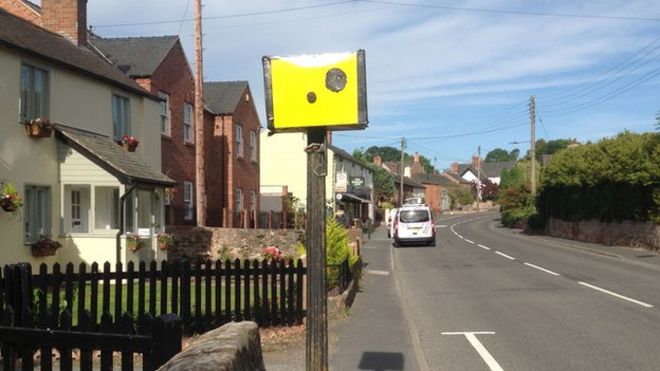 The camera was made from an old microwave box
A fake speed camera has disappeared from a Shropshire village just weeks after it was put up by a resident.
The cardboard imitation - made from an old microwave box painted yellow - was placed on the B4396 in Knockin, near the Welsh border.
Julie Stevenson, from the Knockin Shop in the village, said it was "crazy" the fake camera had been stolen.
"We have a problem with speeding in the village and it did help slow the traffic down," she said.
'Not illegal'
She said the dummy camera was stolen on the weekend of August 15/16.
"We have no idea who has taken it," she said.
"The village is looking at replacing it with another one. This is meant to be a 30mph zone but so many drivers do more than that and the fake camera really did help."
The man who built the camera, who did not wish to give his full name, placed the box on top of a metal post outside his house after he became fed up of motorists flouting the speed limit.
Although it is not illegal to put up pretend speed cameras, police said they could fall foul of planning laws.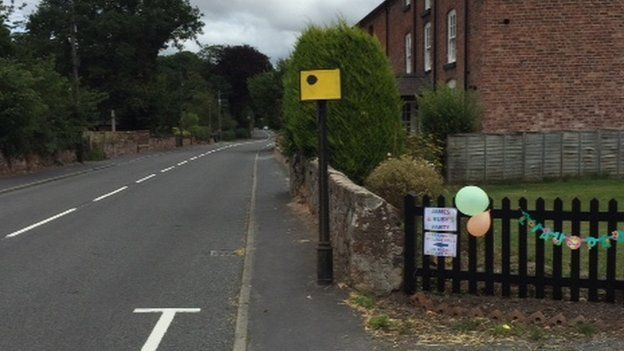 The fake camera had caused people to slow down, according to a villager
Warwickshire and West Mercia Safer Roads Partnership said it does not endorse fake cameras and there are rules about how sites are chosen.