__________________________________________________________________
Sign appeal after lorry stuck in Monmouthshire lane
Cited at:
http://www.bbc.co.uk/news/uk-wales-south-east-wales-36062324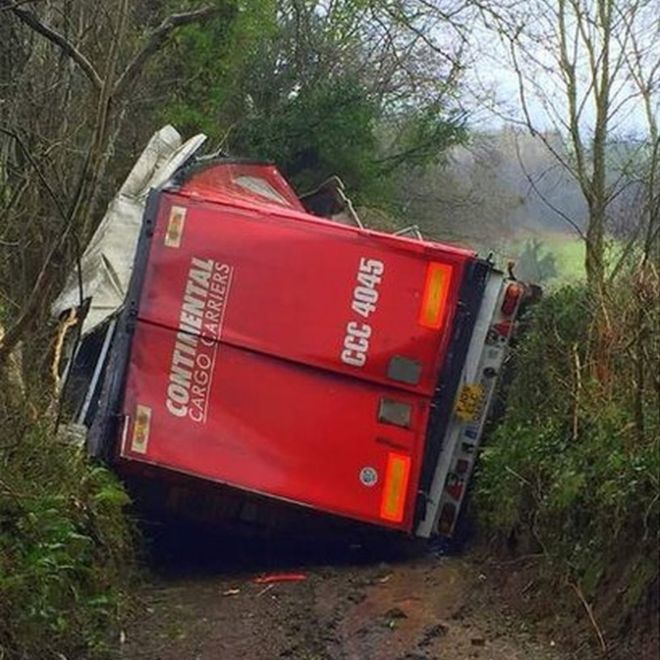 It is not thought the driver of the lorry was injured when it toppled over
Residents in Monmouthshire are calling for a sign to stop lorries using a narrow lane as a shortcut after one became stuck and toppled over.
People living in the hamlet of Gwehelog Fawr believe sat navs are sending unaware drivers down the lane as a way of getting to an industrial estate.
Olivia Beaumont, clerk of the community council, said the stuck lorry had damaged fields.
But Monmouthshire council said the sign was "not justified in this location".
There is already a sign at one end of the lane and it has agreed to put a second sign at another entry point.
'Awareness'
But Mrs Beaumont said lorries were also using another entrance to the lane off the main road and this needed a sign too to make sure drivers were aware their vehicles would not be able to get through.
She said the lorry that became stuck was proof more needed to be done.
"This isn't even a B-road, it's so small it's classed as an R-road. It's a single track road with passing places," she said.
"There is no way a lorry can get through it and most drivers realise that after they have committed to travelling down it. They then have to reverse out."
'Professional judgement'
Following this incident, Gwehelog Fawr Community Council asked for further signage specifically aimed at HGV drivers.
A response sent to it by Monmouthshire council's area engineer said a sign was not justifiable as there was "no evidence of excessive or large numbers of errant HGVs" using the lane.
HGV drivers could "reasonably be expected to stay on the main road here and use their professional judgement when considering which road is appropriate for their type of vehicle", the statement added.